Features
Memory stick on watch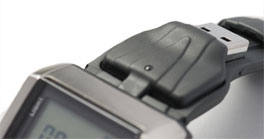 With memory capacity ranging from 512 MB to 8 GB, the watch can access and store data anytime and anywhere with the presence of a computer. Instead of squeezing the flash into the watch head, the flash memory is cleverly embedded on the watch strap, making the watch slim and comfortable to wear.
Easy to use
To use the USB storage function, just push back the connector cover and plug it into your computer's USB port. It is a standard USB mass storage device, so no drivers needed for Windows 2000/XP/Vista or Mac OS 9 and above (For Windows 98, driver installation is needed.)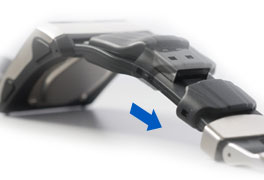 Data Security
With the free software we ship with the watch, you can divide the disk into public areas and secure areas. Secure areas can only be accessed with your preset password to ensure your personal data stays confidential.
Time Piece

This watch head is 10 ATM water resistant, anti-static, and shock proof. We have decades of experience in making watches. For more info, visit: Xonix Watch.