Features
Video on sunglasses

With mini camera built into the frame, you can make video recording/take pictures/enjoy music any time and any where.
No wires
We put everything, camera, battery, memory, on the sunlgassses frame. There is no need to hide hedious wires connecting to some odd devices in your pocket. Just put on the sunglasses and you're ready to roll.
Remote control

So easy. Not only can you take picture by pressing the button on the frame, we include a remote control for free. Just reach into your pocket and press the button on the remote. Even better, you can hand the remote to a friend to help take pictures when both of your hands are busy. The remote control is effective up to 16 feet (5 meters) away.
Polarized lenses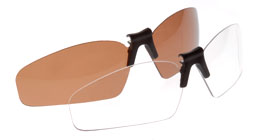 We got the best lenses we could find to protect your eyes. This is, after all, a pair of sunglasses, and we wouldn't skimp on your eye protection. The dark pair of lenses are anti-scratch, polarized (filter out glare), and with UV 400 protection.
Music playback

To build a true digital lifestyle gadget, we added music into the mix. You can store up to 32 hours of music per GB, and can play back up to 3 hours with one charge. Like all other components, we only give you the best. The earphones are very high quality. Too bad we can't prove it online. You're going to have to take our word for it.
Adjustable nose pads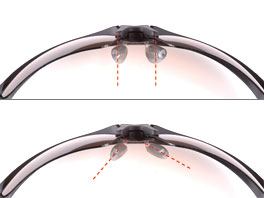 It just fits. The patented adjustable nose pads allow you to adjust the them to your comfort. Just slightly press the frame against your face and the nose pads would turn to fit your nose contour - no tweezers needed, no worries that they might break.
Easy to use

All control buttons are right on the frame, and with both the LED light and the sound feedback, you'll always know what you're doing with this gadget.